Relax in your hot tub
Imagine coming home from work and slipping into your hot whirlpool tub on your patio : it is possible.
Choose the water temperature, turn on the LEDs and relax The 32 silent massage nozzles have an immediate relaxing effect. Your children can join you, there is room for 8 people. Turn off the jets and fully enjoy your luxuriously designed booster pool.
This bubble bath is yours, and it's as fun to watch as it is to relax in it.
It is for this reason that Drop Pool was awarded by the « Association For Finnish Work » for its clean and understated design.
Tell me more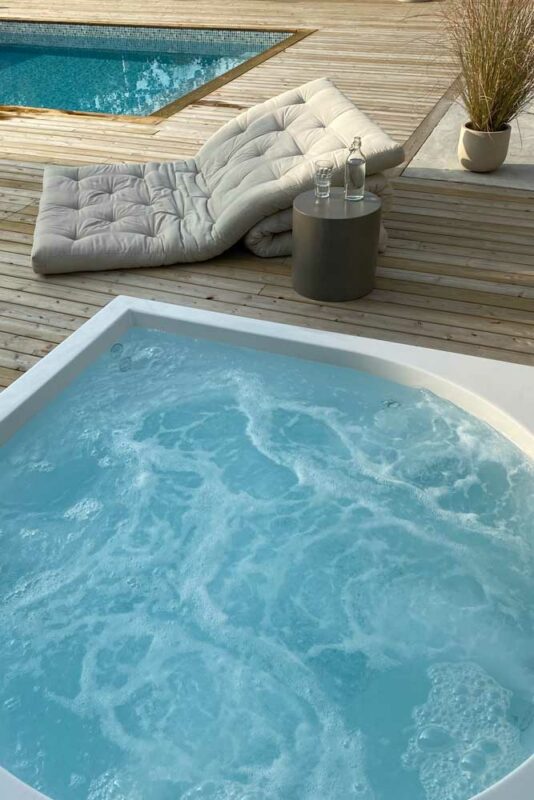 Choose your spa
Your hot tub will be the centerpiece of your exterior. This eye-catching spa is a real investment, both for your comfort and for the value of your property. With its variations in white or gray. The integration of this bubble bath will be a real success in your exterior.
I want assistance in choosing the best spa for me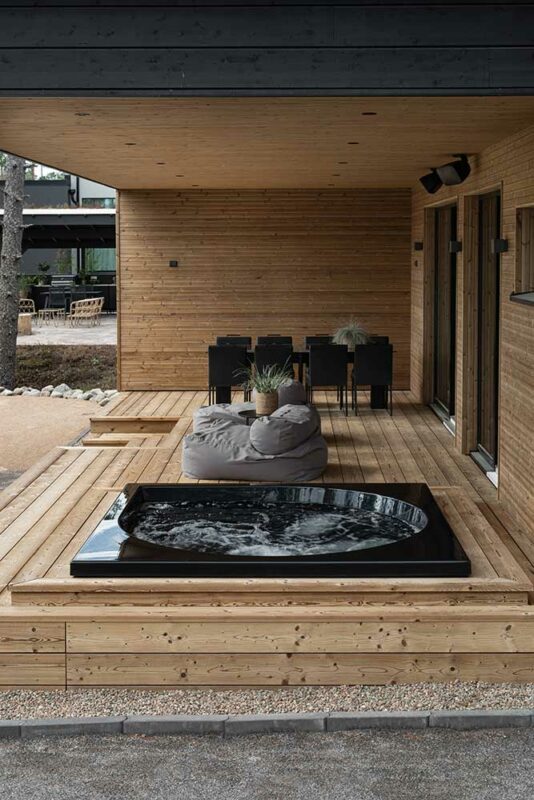 Nordic well-being at home
Drop Pool spa was designed directly in the Nordic spirit, in Finland. To provide you with all the comfort and well-being, without compromising on the aesthetics of your exterior.
This is why we support you from the study of the integration, until the installation by ensuring after-sales follow-up as rigorous as our manufacturing process.
At Nordic Design Shop, we bring Nordic well-being to your home, directly to your patio, without compromise.
I would like to have a personalized offer
A private SPA all year round
Your Drop Pool spa can be used all year round by the whole family. It can be used both as a luxurious SPA and as an extra pool for children. This thanks to its sleek design that can accommodate up to 8 people.
This massaging bubble bath comes with thermal anti-intrusion protection. You thus ensure economical temperature maintenance, in all conditions. The hot tub is secure against intrusions outside of periods of use.
Our after-sales team assures you of the serene use of your spa for years to come. All spare parts are available at short notice to ensure your moments of relaxation at all times. Relax in your heated hot tub, we'll take care of the rest.
I would like to have a personalized offer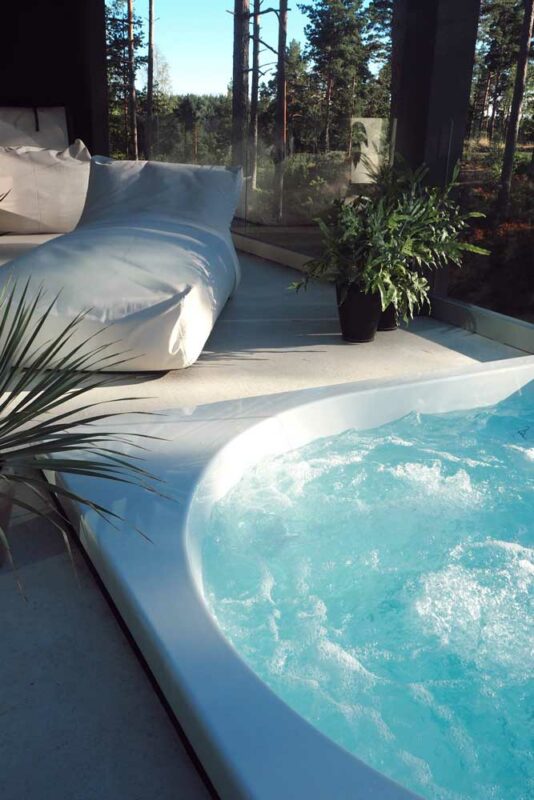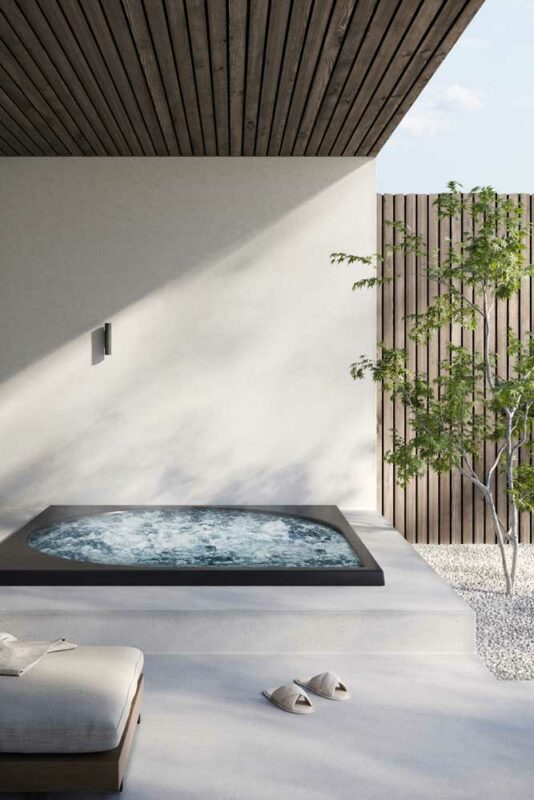 INVESTMENT
The average price of our Drop spas is 15,000 EUR (including VAT), excluding delivery and installation costs. The price of your spa will depend of the model (size, features).
Nordic Design Shop offers you:
Kits for standard installation (simple formwork)
Customized skirting for un-buried proposals
Turn-key projects with complete outdoor layouts.
I want assistance in choosing the best spa for me
FREQUENTLY ASKED QUESTIONS
Our frequently asked questions are compiled on this site. If you cannot find an answer to your question, please contact our customer service.
GENERAL INFORMATION ABOUT DROP
INSTALLATION
WATER MAINTENANCE
How to empty the Drop spa?
The bubble baths are electrically heated and are emptied with a pump.
If you have any questions, ask our sales representative for advice.
N.B.! If you are using chemicals in the spa water, the water must be directed to the sewage system!
How is spa water kept clean?
A spa does need a little maintenance to enjoy fresh, clean water. The filter and UV systems alone are not sufficient to kill all bacteria.
Change the spa water about 3 times a year, depending on usage.
Change the filter balls about once a year.
Regularly add chlorine tablets or active oxygen granules; for example, once a week or after each use. Adjust the pH value of the water if necessary. Always follow the dosage of chemicals.