Do you dream of being able to relax in your hot tub, in the evening after work, in your garden, sipping your favorite drink ?
Make your dream a reality: install your outdoor jacuzzi.
Before taking the plunge, keep in mind the following 5 points for the installation of your outdoor jacuzzi.
1. where to position your jacuzzi ?
indoor or outdoor ?
As in real estate, the location of your jacuzzi is key. Some people will prefer the installation of an indoor jacuzzi. In this configuration, pay close attention to moisture problems that may appear after a few years of use. Installing an indoor jacuzzi also requires a dedicated room and a sufficiently large location. Also pay attention to the nature of the interior floor which can become slippery with the use of the jacuzzi.
The alternative is to install your jacuzzi outdoors. This way, you avoid any indoor humidity problems and will also benefit from more space. The contrast between the fresh air and the hot water of the jacuzzi will further enhance your experience of relaxation and well-being. You will also enjoy your garden more, all year round, in all conditions.
an outdoor jacuzzi, what constraints ?
Choose your hot tub installer carefully. Prefer an integrator who is used to working with the whirlpool spa brand you have chosen. Indeed, each model has its specificities and its access and installation characteristics. For example, some models are installed only above ground, with the access constraints that this can generate (stepping over the edge or going through sometimes slippery stairs). Other hot tub models can be built directly into the terrace or into the ground of the garden. Your installation will be specific, do not do it alone. Ask the manufacturer of the hot tub to accompany you and take the level of accompaniment into account in your choice of hot tub.
You will be able to be advised as much on the choice of the location of the jacuzzi as on the administrative procedures to be carried out with your municipality (if necessary).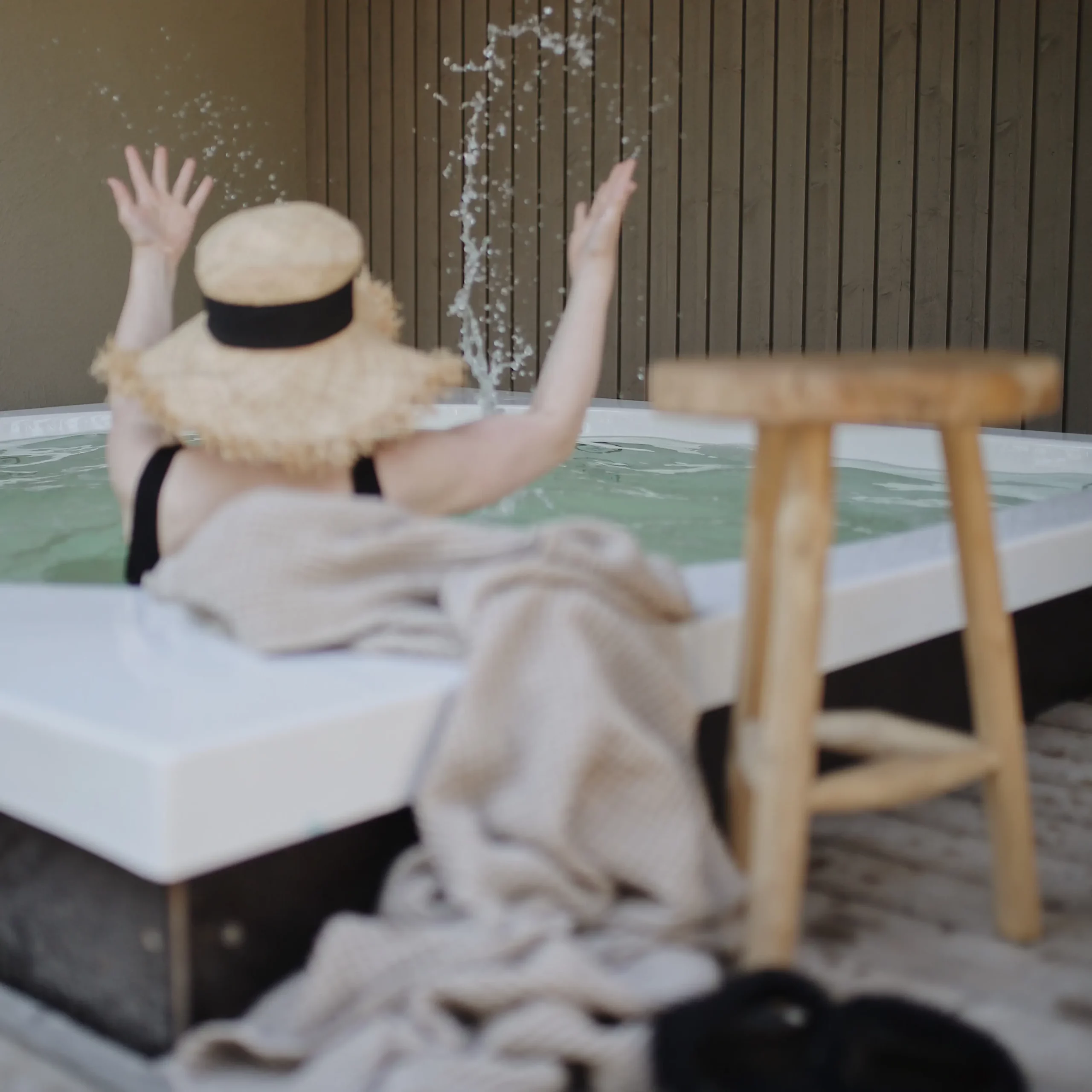 Jacuzzi Drop installed on a customer's terrace
Nature of the soil around the jacuzzi
The floor can quickly become slippery after going back and forth in the jacuzzi. An outdoor installation makes it possible to have other coverings than tiles and to have more breathable floors (wood or agglomerated materials).
position of the hot tub
To make the most of your outdoor jacuzzi, anticipate its use all year round. Avoid positioning it near trees or bushes. The ground may become slippery in autumn with fallen leaves, and the water may be polluted by leaves or flowers. Prefer spaces sheltered from the wind to optimize the heating of the jacuzzi.
Also consider close access to a technical room (water and electricity). Most jacuzzis require a specific electrical installation (3 x 16A and 380V). Some hot tub suppliers also support you in adapting your electrical installation.
Also plan maintenance and routine upkeep, counting at least 50 cm all around the jacuzzi.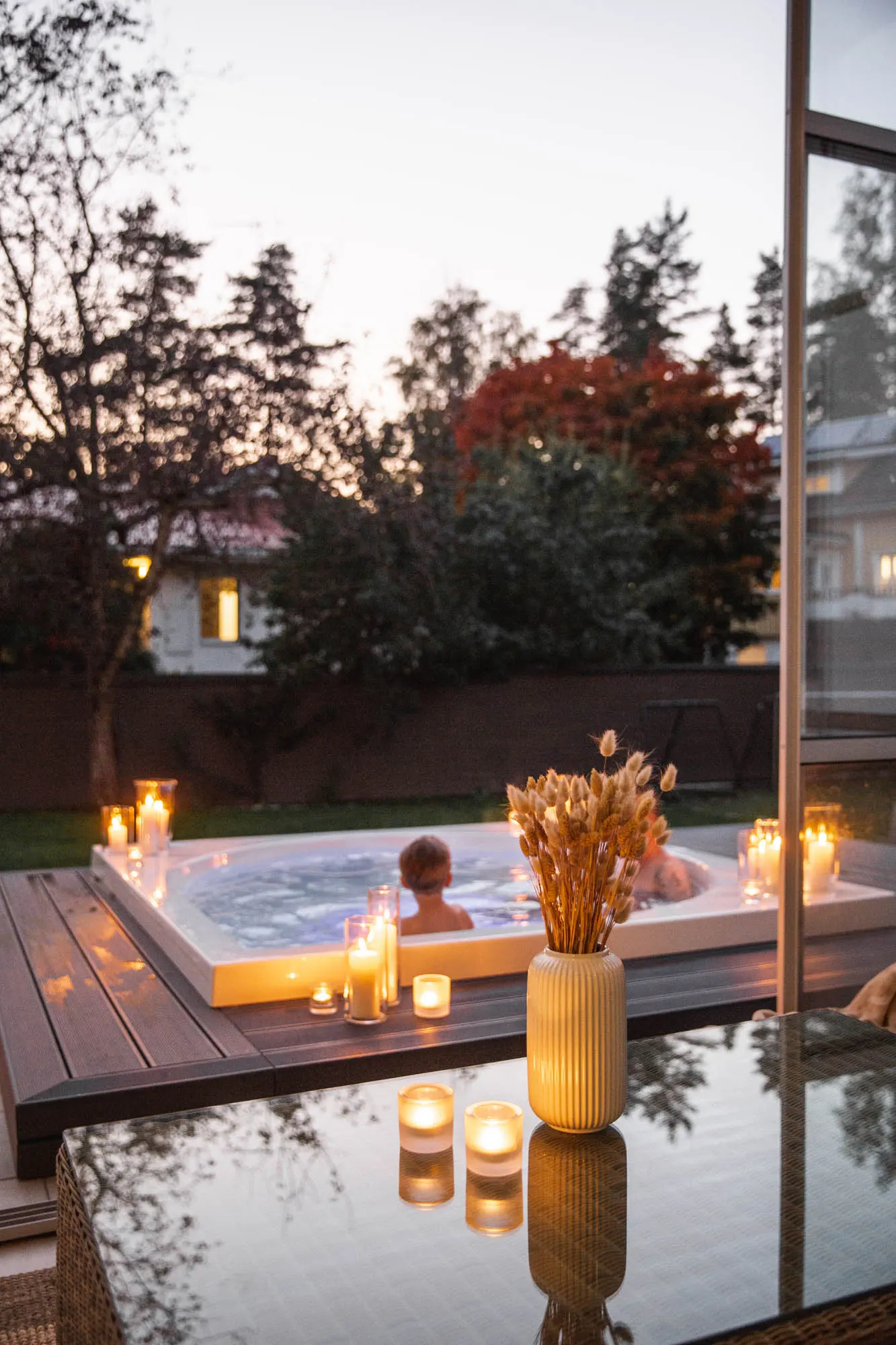 Share unique moments with the Drop spa.
2. year-round maintenance
To make the most of your hot tub all year round, regular maintenance is essential. Prefer jacuzzis that incorporate integrated filtration and disinfection systems (filter balls, UV lamp, ozonator). These hot tubs require fewer chemicals and therefore provide a gentler relaxation experience for your skin.
On all models of jacuzzi, regular monitoring of the water quality is essential (especially pH). The water must also be changed 2 to 3 times a year depending on your use (count on average 1,500 liters of water, for a Drop Pool jacuzzi for example).
The built-in filters should also be changed approximately once a year.
3. maintenance costs of a jacuzzi
The first daily expense for a hot tub is the electricity required for heating and activating the massage nozzles. Pay attention to the thermal insulation of your jacuzzi to avoid any high and uncontrolled expense. Prefer polyurethane shells and other insulating materials. In the case of a Drop Pool jacuzzi, heated all year round to 37°C, plan an average of €1 in electricity expenditure per day. Add to the electrical expenses the regular water changes (2-3 times a year).
Also pay attention to the availability of spare parts, the warranty periods for equipment (hulls and hydro-electric systems) as well as the proximity of customer support in the event of a failure.
4. installation and integration of your jacuzzi
Get as much support as possible on the installation and integration of your jacuzzi. Prefer a manufacturer who provides you with the support of an integrator, both for the electrical installation and for delivery and integration (especially if work is necessary)
The purchase and installation of a jacuzzi must be anticipated as much as possible to be done in the best conditions and time. Especially if work is to be planned, for an underground jacuzzi for example.
5. a jacuzzi for each day
Your jacuzzi will accompany you for many years, especially if you choose a quality jacuzzi. In order to not get bored and enjoy your jacuzzi in all conditions, keep a few points in mind.
Choose a studied design. The market is full of jacuzzis with various and more or less eccentric designs. Even if you like a jacuzzi at the time of purchase, be sure not to get bored after a few months. Also keep in mind that a jacuzzi is an added value to your property. It must be an asset at the time of resale. The choice of a jacuzzi with a studied design is therefore preferable to please the greatest number.
The configuration and size of the hot tub are important parameters. You will enjoy relaxing as a couple, with family or friends, always in the same jacuzzi. So plan large enough and functional (between 4 to 8 places). Customizable jacuzzis, in particular by the lighting atmosphere, adapt to your mood and the atmosphere and increase the feeling of well-being.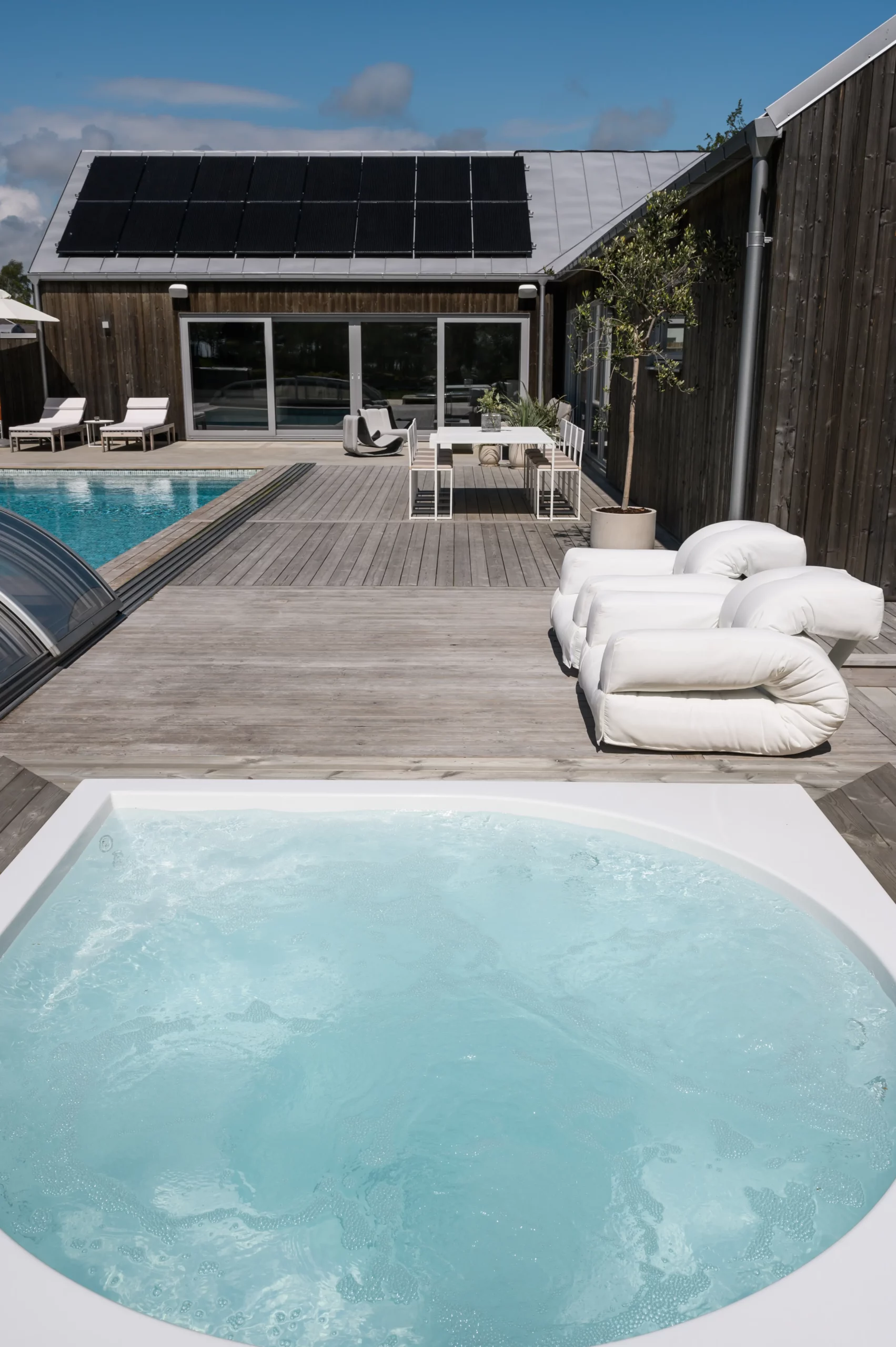 Nordic Design Shop accompanies you in the installation of your private jacuzzi.
Do you want a jacuzzi at home ? Do you have questions ? Contact us!